Klaipeda Business Park & BNTP welcomes new partners
2021.05.05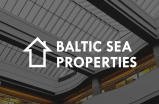 Baltic Equity Group (James Clarke) and RAC Invest (Richard Clarke) have merged their ownership of UAB Klaipedos Verslo Parkas, UAB Pastatu Vystymas and UAB BNTP with the company Baltic Sea Properties AS www.balticsea.no.
BNTP team continues to manage the park as usual. Our clients can expect our continued dedication to providing quality premises and services and our commitment to respecting all our partners.
 Baltic Sea Properties AS is a Norwegian public listed company that owns 130,000m2 of commercial premises in Lithuania with potential expansion of a further 100,000m2. James Clarke is the Executive Chairman of the board and Lars Christian Berger is the CEO of Baltic Sea Properties AS and have overall responsibility for the company's leadership and management.
We take this opportunity to thank our clients for business and partnership.