KVP Sports season 2014
2014.05.15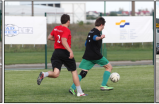 From May 26, 2014, following sport fields are available:
Basketball/tennis court
Football pitch (for training, at KVP 1)
Football pitch (main, at KVP 2)
Please book your time for basketball/tennis court or football pitch in advance by phone +370 615 60800 (Matas Smilgevičius) or by e-mail info@bntp.lt. All the tenants of Klaipeda Business Park and the sponsors of the last year KVP Charity Cup may use basketball/tennis court and football pitch for free.
 Sports competitions
June 27th, 2014 – KVP Basketball Tournament 2014
August 30th, 2014 – KVP Football Charity Cup 2014.
 We appreciate your suggestions about facilities, competitions and/or recommendations for charities to support this year by telephone 846 300164 or by email info@bntp.lt
 Have a nice summer and a good sports season!